Clayton Utz chief executive Rob Cutler said the biggest jump was in its forensic and technology services (FTS), which now has 140 non-lawyers.
He said there were 710 lawyers and 51 paralegals in departments other than FTS.
"The rise in fee-earner numbers reflects a strong infrastructure and corporate transactions market as well as work generated by the amount of regulatory, inquiry and dispute – including class action – activity experienced across the board," he said.
"We continue to explore opportunities to grow our revenues in areas where we see a match in our capability and client demand. FTS and legal project management are two examples of areas we're investing in."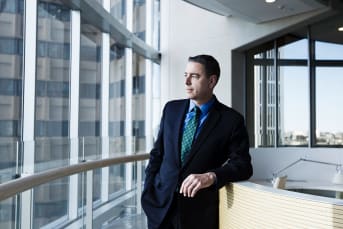 'Incredibly busy'
Ashurst's global managing partner, Paul Jenkins, could also point to double-digit growth of almost 13 per cent..
"Our work on the royal commission has of course been a significant factor," he said. "This was a complex and large-scale project which required teams from across Melbourne, Sydney and Brisbane, with a number of additional resources being brought in to deal with fluctuating workflows. "
He said a strong transactions pipeline "has continued to keep our banking and corporate practices incredibly busy".
Andrew Pike, Herbert Smith Freehills' regional managing partner, said the rise in fee-earner numbers was "in direct response to the increase in work volumes".
Of its 857 fee earners, 87 are graduates or trainees and 84 work in its alternative legal services (ALT) division.
"We had a very busy 2018 with both our transactional and disputes teams delivering on a large number of complex matters. Healthy M&A markets, increasing class actions activity and the banking royal commission boosted the demand for legal services across the board."
He said ALT had more than doubled in size and revenue since it opened in late 2016.
Allens managing partner Richard Spurio reflected the widespread optimism in the legal services sector.
"We are experiencing increasing client demand across many parts of the firm, especially in M&A, banking, projects and disputes and investigations. Our increase in fee earners reflects that.
"We are also experiencing increasing demand for our legal technology services – legal technologists, project managers, paralegals – are all key members of our team.
Modest growth
King & Wood Mallesons managing partner Berkeley Cox said it was "a tight market for top-quality talent with niche skills" but the firm had still managed "modest growth" of 4 per cent.
"We will continue to recruit and utilise our existing workforce efficiently to ensure we have the right resourcing levels to support our clients in the areas where they need expertise."
Corrs boss Gavin MacLaren said said the biggest increase was in the total non-lawyer fee earners (mostly paralegals), which were up by 26 per cent.
"We anticipate 2019 will be a very busy year in the Australian legal market."
HWL Ebsworth managing partner Juan Martinez said he "can't understand how partners operating teams of six or seven fee earners can provide the supervision or support required".
"We would prefer to wait to recruit the right team member, rather than fill a gap for the sake of it. Our greater focus on our graduate program is a core aspect of this approach."